Purpose & Productivity Retreat
4 transformative days to:
• Tune-in and strengthen your personal sense of purpose
• Do deep focused work on what is most meaningful to you
• Deepen your practice of Flowstates & Productivity skills
• Experience connectedness and group processes
COCONAUTS receive a 10% discount on the workshop fee. Get in touch with julianne@coconat-space.com to find out more!
Who is it for?
For knowledge-workers: professionals at all levels,
entrepreneurs, freelancers, researchers, creatives, etc.
For individuals, and teams up to 4.
Whether you are an expert in productivity skills,
or fighting procrastination and distractions,
this program will take you to your next level.
Why Purpose & Productivity matter:
It's never been harder to stay focused on our deepest purpose.
Obstacles like being too busy with urgent tasks,
social commitments, the presence of distractions, energy levels,
subconscious fears, busyness, procrastination, lack of clarity, or
a misfit between our work and what deeply motivates us.
Yet research shows having a wider sense of purpose
is the strongest predictor of wellbeing.
In this retreat you will get a unique opportunity to
recenter on, and deepen your purpose (day 1),
and then do deep work towards your vision (day 2-4)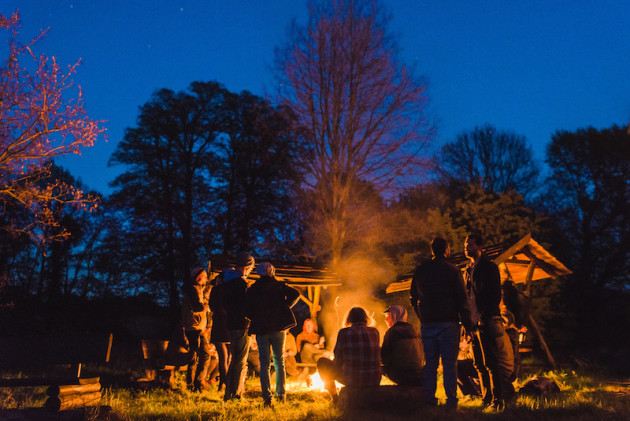 This retreat is a precious time to
Do personal or professional work in your deepest focus yet
Feel the power of being in a safe, focused, purposeful group
Reorganize and de-procrastinate your life
Clear your long to-do list, and free your mind
Buy yourself free time for this summer and the year
Re-energize, and take care of yourself
Progress your productivity skills
Transition to a new way of working and living
When?
Tuesday 25 June – 2pm (you can also arrive in the morning and enjoy the place)
to Friday 28 June – first departures 2pm onwards – or stay until the evening, or some extra nights
The Schedule
Tuesday
11:00-15:00 arrival and settling in (lunch not included)
15:00: Workshop and group exercises on
Deepening your purpose, connecting with the tribe,
defining your vision & goals for the retreat
19:00: dinner
20:00: group nature walk / free time / sauna (extra cost) / ping pong / star gazing
Wednesday/ Thursday
8:00 Yoga / Energizing morning routine
8:45 Breakfast
9:45 Kickoff
10:00-13:00: Flow work sessions / meditation break
13:00-15:30  lunch + long break
15:30-19:00: Flow work sessions / workout break
19:00 Dinner
8pm – group activity / free time / sauna (extra cost) / ping pong / star gazing
Friday
Same morning as above.
13:00: lunch
2pm: First departures possible
Afternoon : will be decided by the group's flow  (flow working / group activity / walk in nature)
Bring your own projects
to make exceptional progress on your tasks & projects – yet with less effort.
to train your mind in the art of Deep Focus, Flowstates & Productivity skills.
You will learn-by-doing
to discover or deepen your wider sense of purpose
The Flow-Working method for (almost) effortless personal productivity
How to beat distractions, procrastination, overwhelm, perfectionism
Emotional wellbeing, high performance, energy management, and more.
What goal or vision could you make progress on,
over these 4 focused days,
that would most positively transform your life ?
Workshop contents
Deepening your purpose (Day 1)
This workshop is based on inner work and group work exercises, lecture, Q&A, creative processes
About Flow Working (Day 2 to 4)
The Flow Working method that we will practice over 3 days inherently addresses:
How to get work done with less effort
The art of deep focus
How to deal with resistance and hesitations
How to enter deeper Flowstates systematically
How to prioritize when there is too much to do
How to finish the workday feeling still energized
More info HERE
Pricing
Investment in yourself = 4 day Process + Accommodation/Food package
This price includes everything you will need in these 4 days.

4 day Process
Cheaper when you buy early, to save us marketing efforts !
(click on Buy tickets)
Accommodation & food package (3 nights, 9 meals)
Standard, in shared room: 202.20Eur
Single room, shared bathroom: +41Eur
Single room, private bathroom: +78.50Eur
2 ppl shared bathroom: 442.20Eur (221.10 per person)
2 ppl private bathroom: 485.40Eur (242.70 per person)
Camping (bring your tent): save 45.70Eur
Price breakdown:
3 nights accommodation (substract from below)
3 days working space/ fast Wifi/ snacks/tea/ coffee all day (35.7eur)
9 all-you-can-eat healthy meals (vegetarian) (99eur)
All prices include MwSt,
that you may be able to claim from your business expenses.
Discounts
A discounted price is available for individuals (non-corporate)
with the aim nurturing and growing our existing community