Eventinfos
Date
10.01.2020 - 12.01.2020
11:00 - 17:00
Location
Coconat
Klein Glien 25
Bad Belzig
Coliving Hub Mastermind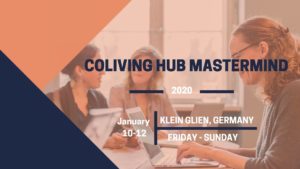 Coliving Hub Mastermind is an inspiring and relaxing weekend for all Coliving space founders, managers and operators. We won't have intensive days where you are expected to work day-and-night and be exhausted by the end of it. Instead, it will be a time when you can truly connect with others, have meaningful one-on-one conversations and connections, and get inspired by the group.
The Coliving Hub team will be there each day to share their knowledge and help you bring your coliving space to the next level.
We will have a welcome evening, delicious meals prepared by the Coconat staff, work sessions, and plenty of time to enjoy each other's company. By the end of the weekend, you'll leave with new business partners and friends!
We will be staying at Coconat and have all our meals included throughout the weekend. There are different room options according to your preferences:
Price includes accommodation for one person, six meals, workshops and use of the coworking space.
EUR 599 – Single room, sleeps 1 person
EUR 459 – Twin room, sleeps 2 people (price is per-person)
EUR 339 – Dorm, sleeps 6 people (price is per-person)