HTW students help shape our Social Business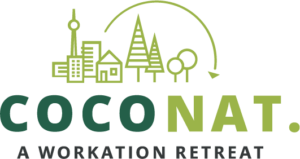 For sure a company like Coconat has to be economically sustainable, but money isn't all that counts. First and foremost we understand ourselves to be  active members of society. We have received so much support from different sides and we want to give something back. Topics which are important for us, and in which we do have some expertise, include digital and entrepreneurial development in rural areas, as well as the promotion of a good work-life balance.
In our team we talk a lot about our social aims, but in the rush of the daily business of developing our company they to often gets pushed aside by ´more urgent` topics. Therefore the Coconat Team is very happy to announce our cooperation with the Hochschule für Technik und Wirtschaft Berlin [University of Applied Sciences]. We are very excited to work with highly motivated and professional students and to get a solid outside view on our daily work. Together, with masters students in Nonprofit-Management and Public Governance (MaNGo), we will develop a creative social entrepreneurship concept for Coconat.