Eventinfos
Date
16.02.2021
9:00 - 15:00
Virtual Coworking Day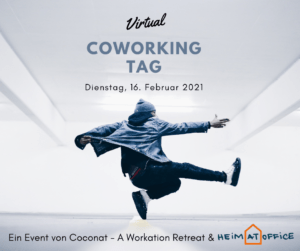 More productivity in the home office!
Do your days in the home office sometimes feel tough? Are you not really getting things done? Do you miss the exchange with others?
Then come to our virtual coworking day on Tuesday, February 16 from 9 a.m. to 3 p.m. via Zoom:
STRUCTURE: You spend a working day that follows a clear, pre-structured process. It contains guided elements for the exchange with others, for your personal work phases and for physical exercise.
COMMUNITY: Between your work phases you can exchange ideas with other coworkers and make new contacts.
MOVEMENT: With guided physical exercises you will get through the day refreshed and full of energy.
FLOW: The combination of structure, community and physical exercise supports you for a working day with flow.
Curious? Then get in touch with Anna: anna.momburg@neuland21.de