Eventinfos
Date
05.10.2020
8:00 - 20:00
Location
Coconat
Klein Glien 25
Bad Belzig
Price
FREE (€7 to join lunch)
Fläming Remote :: Community-Meetup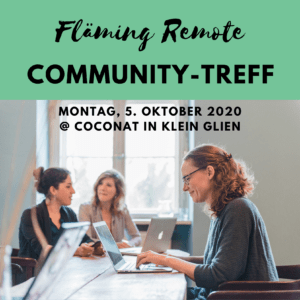 Invitation
Live in Fläming and working from home?
You are interested in more exchange and want to meet other local remote workers?
Then start your working week at Coconat and come to our first 'Fläming Remote' community meetup.
8am-8pm –free Coworking
1pm –Community Luncheon: Coconat offers yummy vegetarian food for just €7 this day. Of course you can also bring your own. Point is, we eat together!
16:15-18:15 Uhr –Show & Tell for everyone, If you are interested in knowing more about the project, join our Co-Founder Julianne for a tour and Q&A
If you plan to join, please let us know: anna.momburg@neuland21.de
Looking forward to spending the day with you at Coconat!