Kreativsause Extravaganza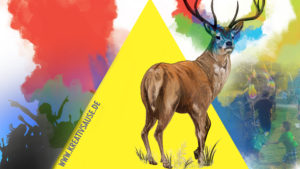 Kreativsause celebrates a week of interactions, workshops, events, and so much more together with everyone, and in conjunction with 48hours Fläming!
Expect: Music, Food, maker's workshops, updates from the week, Kid's programme, films, theatre, massage and more!
—–
48 Hours Fläming
From 10am
Klein Glien Church doors open,
Milan artisan collective shop open,
Exhibition from 'Find your flow'
—–
1pm- Lunch from Fläming Kitchen
—–
Entertainment zone Outside in Hof
2pm  opens with open doors and light music
2-4pm Outdoor bowling (All ages
2pm- Exhibition opening Digital pictures made by 8th grade class from Fläming Gymnasiums & Tetrapix
2:15-2:30pm Coconat Tour
2:30 – Theater-Medien-Vorstellung: "Die Anderen"
3:30pm Q&A with Tina, about the 'Find your flow' exhibition
4-5pm  Café Pepinsky
5-6pm  Elk
6pm  Virtual Reality Tour on the 'Kunstwanderweg' with Young Images e.V.
7-8pm  Dinner-Break
8-9pm  film screening Living Legends produced by Gymnasium Fläming und Moviemiento e.V., and maybe some other film surprises
9PM  AIO
9:30 pm-late DJ Philip and DJ Hugo
Kinderkreativ Extravaganza (just drop in!)
2-6pm Face-painting and Jumping Castle
2-4pm Outdoor bowling (All ages), Seed bomb making, Kids bow and arrow
2-4pm Seed-bomb making
2:30-4pm make a bow and arrow, and learn how to use
2-5pm Coder Dojo – kids learn to code with super fun interactive games.
Workshops and meet and greets!
2-4pm – Upcycled toy making with Milan
3-4pm – Feinstaubsensor selber bauen – book in advance here, or drop in if there is space left.
Get to know our friend and partner projects!
Neuland 21
Bad Belzig App
Wir zu Lande
Social Impact
and more!