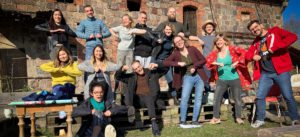 Our Co-founder Julianne Becker, tells Coconat's Impact Success stories.
Wednesday 2 Dec 2020 – 3-5pm
—–
We are working together to create anew network of rurally focused projects all around the world, called Rural Shakers.
We begin with a series of online talks, inspiring impact stories, as told by experienced Rural Shakers, as a way to so  transfer their skills, learnings, and best practices to newly created Rural Shakers.
The first steps are the creation, identification, and dissemination of knowledge and success stories. Next we will offer mentorship, support, resources, and guidance for Rural Shakers.
The first initiatives proposed for and by the Rural Shakers is a series of online inspirational talks, workshops, and an online congress co-created with a worldwide working group of rural coliving and coworking spaces, and rural activation initiatives.
On Dec 2-3 you will here from such projects as Coconat (Germany), Ruralízate (Spain), La Iera artisan Collective (Olot, Spain), Goodfather and Olive Tree (Oliete, Spain), and BrainCo (Extremadura, Spain).
Rural Shakers with whom we share our impact-driven values and mission, and a certain level of experience and measurable KPIs of experience; including reversal of rural depopulation by attracting and consolidating impact-driven creative, innovative, and entrepreneurial people to rural areas.